"Who are you to judge me"
My Thoughts on a College Education.
College is so important to me. Some people find that it is just a waste of money or unneccessary, well, I want to go for more then just a degree! I want to go and take in the whole experience, and make new friends. Maybe even life-long friends! I plan to be really involved with the school! I plan to take part in the New Horizons club, create a Frolfing Club, and if I end up not participating in Volleyball I'm interested in the Yoga Club for relaxation.
I'm a 1st generation college student. Currently, I'm the only one of my sibblings who cares to even further my education. (Maybe one day I can convince my brother otherwise, since he is interested). I don't want to be stuck in my family's loop of low-income living. I want to be financially independent, without having to rely on some man or the government! After finishing college and finding the career I will enjoy with all the benefits, I plan to purchase a house and settle down. I'm in no rush at this point because college is it's own chapter in my life, and it's just begun.
I want to make something of myself, and hopefully become a role-model for my brother's kids the way my aunt has to me! I feel that one day I will be someone inportant, and that I'm finally working towards my life's purpose. It's a wonderful feeling to have when your life feels like it's being fullfilled.
Here's to another day of accomplishments! The best part about today, I woke up.
My Family
I have 2 brothers, Andrew who is my younger brother, and Joey who is my older brother.
Andrew already has three children of his own: Faith - 6 in Oct (2009), Jordan - 4, Lathan - 2 in Sept (2009).
Joey is a simple person, and easily satisfied with his cartoons and games.
My mother and father have been divorced since I was a baby, but I've kept in touch with my father! (It's important to me).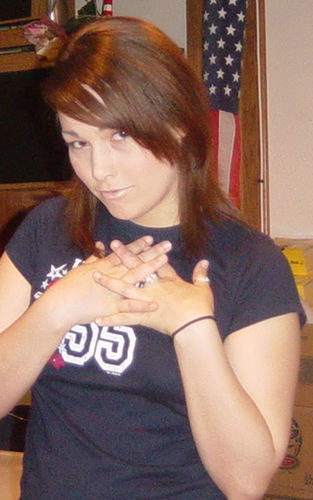 Where do I see myself in 5 years?
In 5 years I will have finished my degree program and on my way to owning my own house. By doing the intern program through my college, finding the career I want shouldn't be as hard. Obviously I will be paying off my debt to my school loans and any other private loans I have, so money will be tight for awhile, but I plan to purchase my first nicer car for once in my life! I know how to responsibly manage my money, and I'm a great saver! After 5 years go by, I will finally and truly feel independent! (I can't wait). But there is one last definate thing that has to happen too... I better be engaged by 2013!! (My clock is ticking!)
Ever since I've worked at a bowling alley, I always thought it would be nice to run and own my own bowling alley one day. Even though that is my direction, while I take an internship, I will steer away from a bowling alley and bar atmosphere to experience other types of business management and administration opportunities. Who knows, maybe I will find something else I enjoy even more.

What I hope to accomplish in the next 9 months:
1) Maintain a GPA of 3.0 or higher.
2) Stay involved with my school, participate in many different events/clubs. Keep my mind open to new things.
3) Reaccess myself and if a bussines management/administration major is really the direction I want to take.
4) To have met many new people and make new friends, but being able to objectively select friends who will keep me motivated in the right direction, as I will for them.
5) A healthy balance between family/friend time and school activities, involvement, and homework.

What I hope to accomplish in 2 years:
1) To obtain my Associates Degree from one of the UW-Colleges.
2) To continually maintained my GPA 3.0 or higher.
3) Take part in an intern position, finding a better direction for a career.
4) Exploring my options for my next 2 years of college.
5) To work on getting my license reinstated.
6) Speak spanish fluently, opening more career doors in my future.

(08-11-08)